Welcome to the principal's page for Premier High School. I am the principal, Mrs. Petersen. I possess a Master's Degree in Education Administration and an Arizona Principal's License for grades K-12. I have been in education in Arizona for over 23 years, of which I have been an administrator at Premier High School for the last nine.

I am a very proud mother of two children (ages 15 and 18) and two Goldendoodles (ages 1 and 5). In my spare time, I like to spend time with family, hike, do yoga and travel. I have been fortunate to have visited 18 different countries so far.

Our theme for the year is "Turn your dreams into reality." We know that our students can accomplish great things and want to help them work to achieve what they dream! Students are a precious resource and I have the honor of playing a part in preparing them for the future. I am especially proud of our positive academic performance as a school and am looking forward to another outstanding year!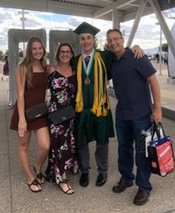 During the unforeseen changes as a result of the COVID-19 outbreak, we will be providing online instruction to all of our students through the remainder of the school year. I understand that this can cause much uncertainty for our students, but want you to know that we are doing everything we can to make it the best experience possible.

We are providing regular updates on the main page of our website along with several supporting documents and resources to assist you during this time. Additionally, we can still be reached at our school phone number 623-245-1500.

Thank you for your support and flexibility as we continue to work with you in partnership for the remainder of the 2019-2020 academic year.

GOOOOO TITANS!

Respectfully,

Debbie Petersen