February 5, 2021
Premier Students and Families,
We hope that all of you are remaining healthy and safe. Our teachers and staff members miss seeing all of our students in person every day and are grateful for the support from our Premier community.

Given the current community COVID-19 data trends, Premier will continue to provide distance learning for our students throughout the month of February. We will continue to provide updates through our website and autodialed messages.

Our 3rd term of classes began on January 4th and we are finishing week 5 of our 9-week term. Hybrid students are expected to report to their virtual classes at the regularly scheduled times. Online students must be actively logged in and completing a minimum of 4 hours of coursework each day.
We continue to offer free grab and go breakfasts and lunches for drive-thru pick up at the school, as well as onsite support services. Please call the school to let us know if you want to pick up meals or schedule for your student to have access to a free, safe learning space on campus. This is not in-person instruction, but rather access to space in a computer lab for a student to work on their own. Masks are required on campus at all times even during the pick up of school meals.

State AZM2 testing in English and Math for all 10th graders and state AZ Science testing for all 11th graders is coming up in March and April. Our students receive preparation through provided coursework and tutoring from their teachers. Please help us to encourage your student to attend school and complete their learning tasks every day.

We sincerely appreciate all of your continued support and invite you to always call the school if you have any questions or concerns, 623-245-1500. We are open from 7:30am-4:00pm Monday-Friday.
Sincerely,
Premier's Administrative Team
Premier High School's Learning Models
5 de febrero

Estudiantes y familias,
Esperamos que todos estén sanos y seguros. Nuestros maestros y miembros del personal extrañan ver a todos nuestros estudiantes en persona todos los días y están agradecidos por el apoyo de nuestra comunidad Premier.
Dadas las tendencias de datos actuales de la comunidad COVID-19, Premier continuará brindando educación a distancia para nuestros estudiantes durante todo el mes de febrero. Continuaremos brindando actualizaciones a través de nuestro sitio web y mensajes de marcación automática.
Nuestro 3er trimestre de clases comenzó el 4 de enero yestamos terminando la semana 5 de nuestro periodo de 9 semanas. Se espera que los estudiantes híbridos se presenten a sus clases virtuales en los horarios programados regularmente. Los estudiantes en línea deben iniciar sesión activamente y completar un mínimo de 4 horas de trabajo de curso cada día.
Continuamos ofreciendo desayunos y almuerzos gratuitos para llevar y recoger en la escuela, así como servicios de apoyo en el lugar. Llame a la escuela para informarnos si desea recoger las comidas o programar el horario para que su estudiante tenga acceso a un espacio de aprendizaje seguro y gratuito en el campus. Esta no es instrucción en persona, sino acceso al espacio en un laboratorio de computación para que un estudiante trabaje por su cuenta. Se requieren máscaras en el campus en todo momento, incluso durante la recogida de las comidas escolares.
Las pruebas estatales AZM2 en inglés y matemáticas para todos los estudiantes de 10º grado y las pruebas estatales de ciencias AZ para todos los estudiantes de 11º grado se realizarán en marzo y abril. Nuestros estudiantes reciben preparación a través de cursos proporcionados y tutoría de sus maestros. Ayúdenos a animar a su estudiante a que asista a la escuela y complete sus tareas de aprendizaje todos los días.
Agradecemos sinceramente todo su apoyo continuo y lo invitamos a llamar siempre a la escuela si tiene alguna pregunta o inquietud, 623-245-1500. Estamos abiertos de 7:30 am a 4:00 pm de lunes a viernes.
Sinceramente,
Administracion de Premier
Premier High School's Caminos Hacia El Exito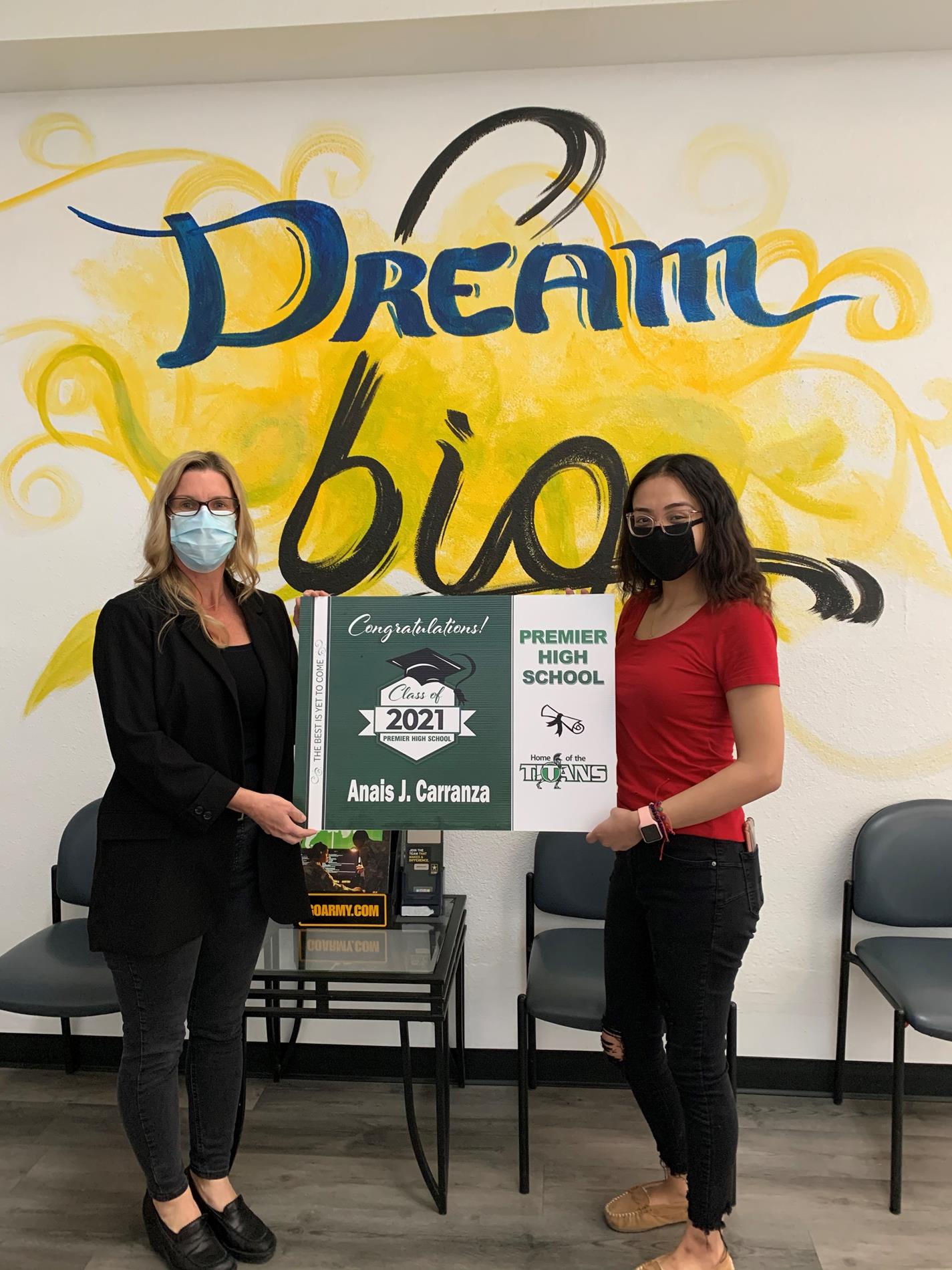 Congratulations
Anais & Victoria
Our first graduates for the 2020-2021 school year!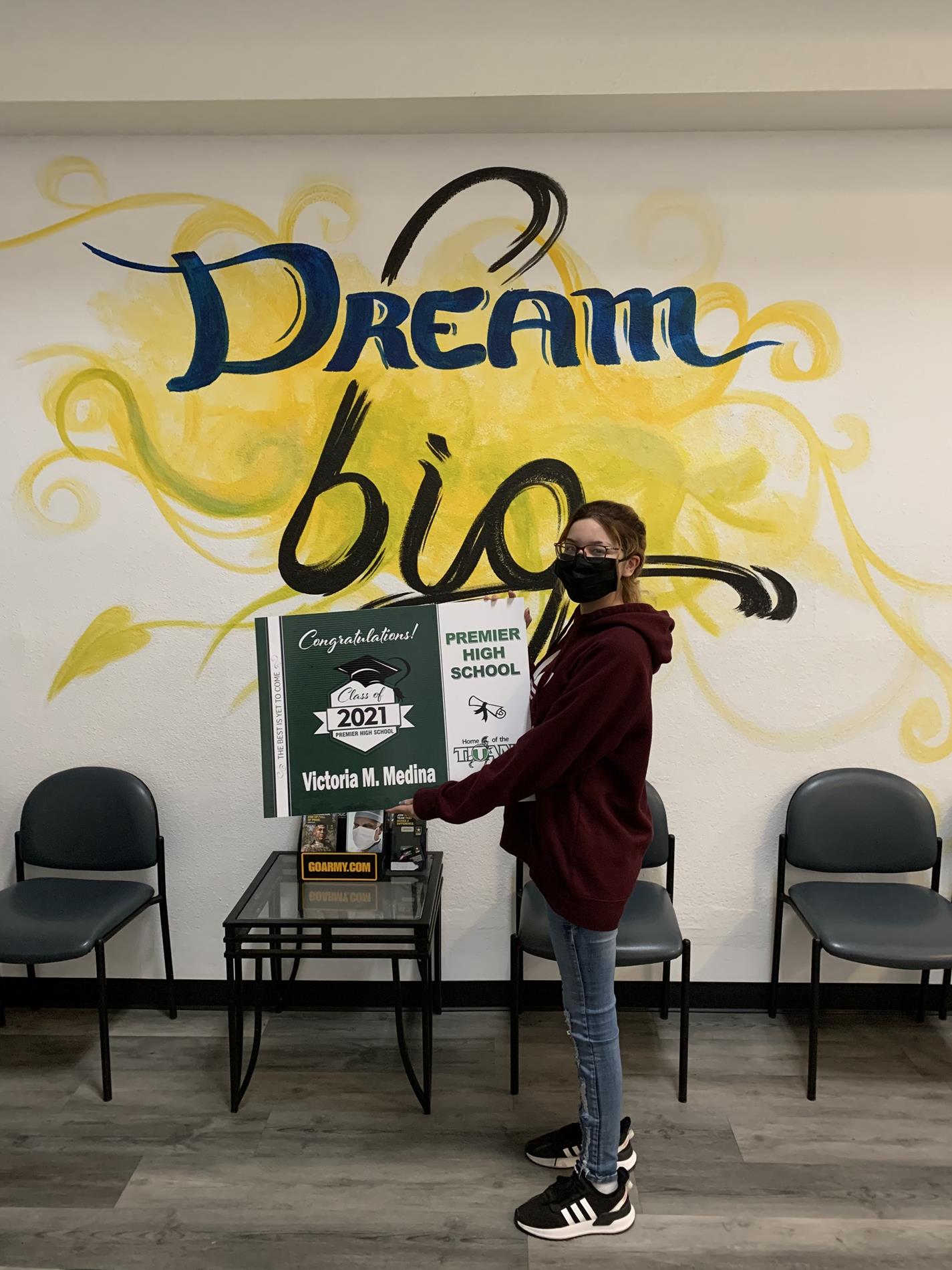 Back to School Important Information

Breakfast and Lunch Offerings
Premier is offering free breakfast and lunch to all kids 18 and under even during distance learning. There will be drive-thru pickup in front of the school on Monday-Thursday from 9:00am-3:00pm.
*there may be some food prep (i.e heating up of a entree) to have better quality items available
Important Resources

More coming soon!
Premier High School Receives "A" Rating

As of October 2019, the current A-F letter grades from the Arizona State Board of Education were made public. The formula that determines school labels uses a wide range of academic measures, including results from the AzMERIT test and academic growth.

To learn what your school's letter grade is and what those letter grades mean, go to the Arizona State Board of Education website.