COVID-19 VACCINATION CLINIC SEPTEMBER 24th 3-5PM
NOW ENROLLING FOR THE 2021-2022 SCHOOL YEAR


Premier High School has five core values that are embedded in everything that we do. We want take pride in ensuring that our staff and students are able to contribute great things to our learning community and the world.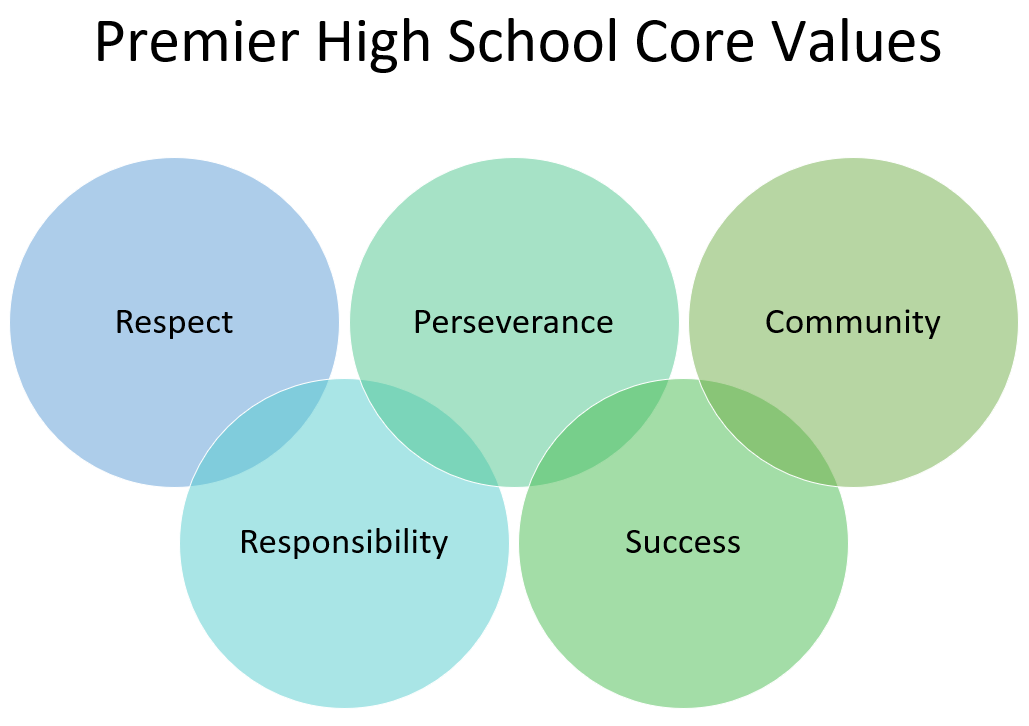 We have six school-wide non-negotiables that we expect everyday from our students. These align to our core values and ensure that students are ready to learn and accountable for their learning each day.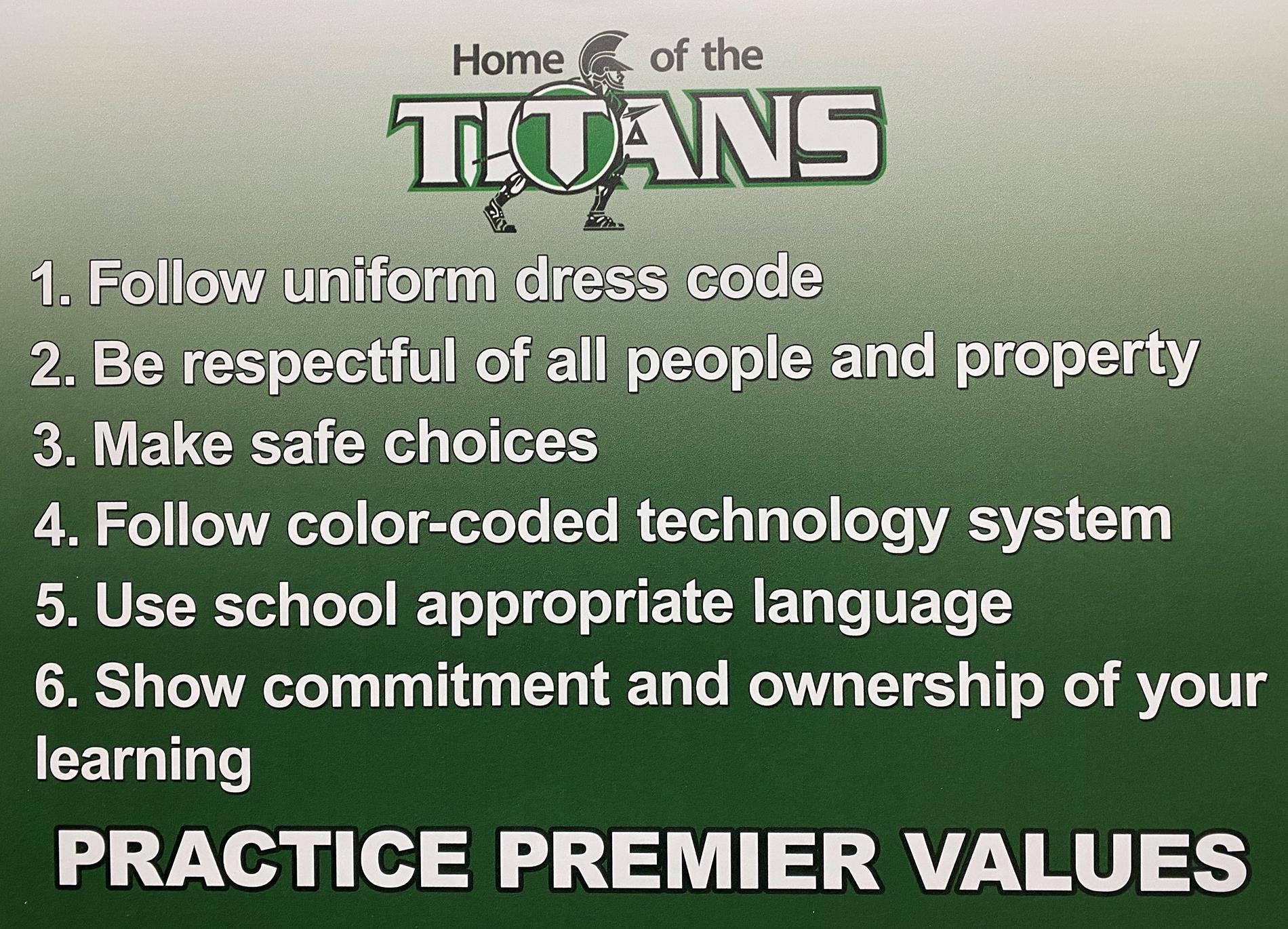 Current Student Information
Go Titans!
September 9, 2021
Premier Students and Families,

We hope that all of you continue you remain safe and healthy as the school year progresses. Our hours are Monday-Friday 7:30am-4:00pm.
All classes continue to be offered in person for the 2021-2022 with COVID safety measures in place. Our first term of classes began on August 9, 2021 and continues until October 11, 2021. Our theme for the year is "The best way to predict your future is to create it!" We want our students to use what they learn today to build for an exciting and prosperous future.
Please join us for our Open House event on Thursday, September 9th from 4:00-6:00pm. You will have an opportunity to visit with our staff, hear about our programs and goals for the year.
We appreciate the continued support of our community and invite you to contact the school with any questions or concerns at 623-245-1500.
Sincerely,
Premier's Administrative Team
Your Fast Track to Success is at Premier High School!
We are currently enrolling for the 2021-2022 school year for students grades 9-12. Premier is an A-rated school by the Arizona Department of Education. We take great pride in providing our students with a personalized program focused on credit recovery and preparation for life after graduation. Some key highlights of our program are as follows:
A-rated, tuition-free high school
Grades 9-12, ages 14-21
Earn at least 9 credits a year
Free student activities (sports and clubs)
Free bus cards
Free breakfast and lunch
Información actual del estudiante
Go Titans!
9 de september

Estudiantes y familias,
Esperamos que todos ustedes continúen manteniéndose seguros y saludables a medida que avanza el año escolar. Nuestro horario es de lunes a viernes de 7:30 a. m. A 4:00 p. m.
Todas las clases continúan ofreciéndose en persona para el 2021-2022 con las medidas de seguridad de COVID implementadas. Nuestro primer período de clases comenzó el 9 de agosto de 2021 y continúa hasta el 11 de octubre de 2021. Nuestro tema para el año es "¡La mejor manera de predecir su futuro es crearlo!" Queremos que nuestros estudiantes utilicen lo que aprenden hoy para construir un futuro próspero y emocionante.
Únase a nosotros para nuestro evento de puertas abiertas el jueves 9 de septiembre de 4: 00-6: 00pm. Tendrá la oportunidad de visitar a nuestro personal, conocer nuestros programas y metas para el año.
Agradecemos el apoyo continuo de nuestra comunidad y lo invitamos a comunicarse con la escuela con cualquier pregunta o inquietud al 623-245-1500.
Sinceramente,
Administracion de Premier
¡Su vía rápida hacia el éxito está en Premier High School!
Actualmente nos estamos inscribiendo para el año escolar 2021-2022 para los estudiantes de los grados 9-12. Premier es una escuela con calificación A del Departamento de Educación de Arizona. Nos sentimos muy orgullosos de proporcionar a nuestros estudiantes un programa personalizado centrado en la recuperación de créditos y la preparación para la vida después de la graduación. Algunos aspectos destacados de nuestro programa son los siguientes:
Escuela secundaria sin matrícula con calificación A

Grados 9-12, edades 14-21

Gana al menos 9 créditos al año

Actividades gratuitas para estudiantes (deportes y clubes)

Tarjetas de autobús gratis

Desayuno y almuerzo gratis

Breakfast and Lunch Offerings
Premier is offering free breakfast and lunch to all kids 18 and under. Drive thru pickup is available. Please contact the school at 623-245-1500.

*there may be some light food prep (i.e heating up of a entree) to have better quality items available
Premier High School Receives "A" Rating

As of October 2019, the current A-F letter grades from the Arizona State Board of Education were made public. The formula that determines school labels uses a wide range of academic measures, including results from the AzMERIT test and academic growth.

To learn what your school's letter grade is and what those letter grades mean, go to the Arizona State Board of Education website.