March 9, 2021
Premier Students and Families,

We hope that all of you continue to remain healthy and safe. Our teachers and staff members miss seeing our students in person every day and are grateful for the support from our Premier community.
Our 3rd term is finishing on Wednesday, March 10th. Hybrid students are completing their final exams and online students are finishing their Edgenuity coursework. Report cards will be mailed on Friday, March 12th. There is no school for staff development days on Thursday and Friday March 11th and 12th followed by our spring break March 15th -19th.
Given the recent order from Governor Ducey and new benchmark updates, Premier will begin offering in-person learning for our students on March 22nd. We have updated our "hybrid" plan to include 4 days on campus Monday-Thursday each week and 1 day online/on campus as a Flex Friday each week. Please see the updated plan summary in the graphic included on the main page below titled, "Premier Pathway to Success."
Our 4th term of classes begins on Monday, March 22nd after our spring break. Hybrid students are expected to report to school in-person for an orientation day on March 22nd from 8:00am-12:30pm and then continue with their regular schedule of classes from 8:00am-3:02pm on Tuesday, March 23rd. Our first Flex Friday will occur on Friday, March 26th. During our in-person learning orientation, hybrid students will have an opportunity to meet with each of their teachers and receive detailed expectations about the new required safety measures on campus (masks, social distancing, seating arrangements, etc.) and general return to school expectations (uniform shirts, attendance, lunch procedures, etc.). Online students must be actively logged in/completing a minimum of 4 hours of Edgenuity coursework each day beginning March 22nd.
We are in the process of contacting each family to ensure that you have selected your learning option for 4th term. A virtual meeting was hosted by Premier via Zoom on Thursday, March 11th at 4:00pm to share details about our plan for term 4 in-person learning. The slides from the presentation are attached below in both English and Spanish.

State AZM2 testing in English and Math for all 10th graders and state AZ Science testing for all 11th graders is coming up in March and April. Our students receive preparation through provided coursework and tutoring from their teachers. Please help us to encourage your student to attend school and complete their learning tasks every day.
We sincerely appreciate your continued support and invite you to call the school if you have any questions or concerns, 623-245-1500. Our hours are 7:30am-4:00pm Monday-Friday.
Sincerely,
Premier's Administrative Team
Premier High School's Learning Models
Return to In-Person Learning Presentations in English & Spanish
9 de marzo

Estudiantes y familias,
Esperamos que todos ustedes continúen sanos y seguros. Nuestros maestros y miembros del personal echan de menos ver a nuestros estudiantes en persona todos los días y están agradecidos por el apoyo de nuestra comunidad Premier.
Nuestro tercer plazo termina el miércoles 10 de marzo. Los estudiantes híbridos están completando sus exámenes finales y los estudiantes en línea están terminando su curso en edgenuity. Las tarjetas de informe de calificaciones se enviarán por correo el viernes 12 de marzo. No hay escuela para los días de desarrollo del personal el jueves y viernes 11 y 12 de marzo seguido de nuestras vacaciones de primavera del 15 al 19 de marzo.
Dada la reciente orden del Gobernador Ducey y las nuevas actualizaciones de referencia, Premier comenzará a ofrecer aprendizaje en persona para nuestros estudiantes el 22 de marzo. Hemos actualizado nuestro plan "híbrido" para incluir 4 días en el campus de lunes a jueves cada semana y 1 día en línea / en el campus como un viernes flexible cada semana. Consulte el resumen actualizado del plan en el gráfico incluido en la página principal siguiente titulado "Premier Pathway to Success".
Nuestro cuarto plazo de clases comienza el lunes, 22 de marzo después de nuestras vacaciones de primavera. Se espera que los estudiantes híbridos se presenten a la escuela en persona para un día de orientación el 22 de marzo de 8:00am-12:30pm y luego continúen con su horario regular de clases de 8:00am-3:02pm el martes, 23. Nuestro primer viernes flexible tendrá lugar el viernes 26 de marzo. Durante nuestra orientación de aprendizaje en persona, los estudiantes híbridos tendrán la oportunidad de reunirse con cada uno de sus profesores y recibir expectativas detalladas sobre las nuevas medidas de seguridad requeridas en el campus (máscaras, distanciamiento social, arreglos de asientos, etc.) y el regreso general a las expectativas escolares (camisas uniformes, asistencia, procedimientos de almuerzo, etc.). Los estudiantes en línea deben haber iniciado sesión activamente/completando un mínimo de 4 horas de trabajo de cursos edgenuity cada día a partir del 22 de marzo.
Estamos en el proceso de contactar a cada familia para asegurarnos de que ha seleccionado su opción de aprendizaje para el cuarto plazo. Premier organizará una reunión virtual a través de Zoom el jueves 11 de marzo a las 4:00 p.m. para compartir detalles sobre nuestro plan para el aprendizaje en persona del cuarto plazo. Las presentaciones se incluyan a continuacion en ingles y espanol.
Las pruebas estatales de AZM2 en inglés y matemáticas para todos los estudiantes de décimo grado y las pruebas estatales de AZ ciencia para los estudiantes del undécimo grado se acercan en marzo y abril. Nuestros estudiantes reciben preparación a través de cursos proporcionados y tutorías de sus maestros. Por favor, ayúdenos a alentar a su estudiante a asistir a la escuela y completar sus tareas de aprendizaje todos los días.
Agradecemos sinceramente su continuo apoyo y le invitamos a llamar a la escuela si tiene alguna pregunta o inquietud, 623-245-1500. Nuestro horario es de 7:30am-4:00pm de lunes a viernes.
Sinceramente,
Administracion de Premier
Premier High School's Caminos Hacia El Exito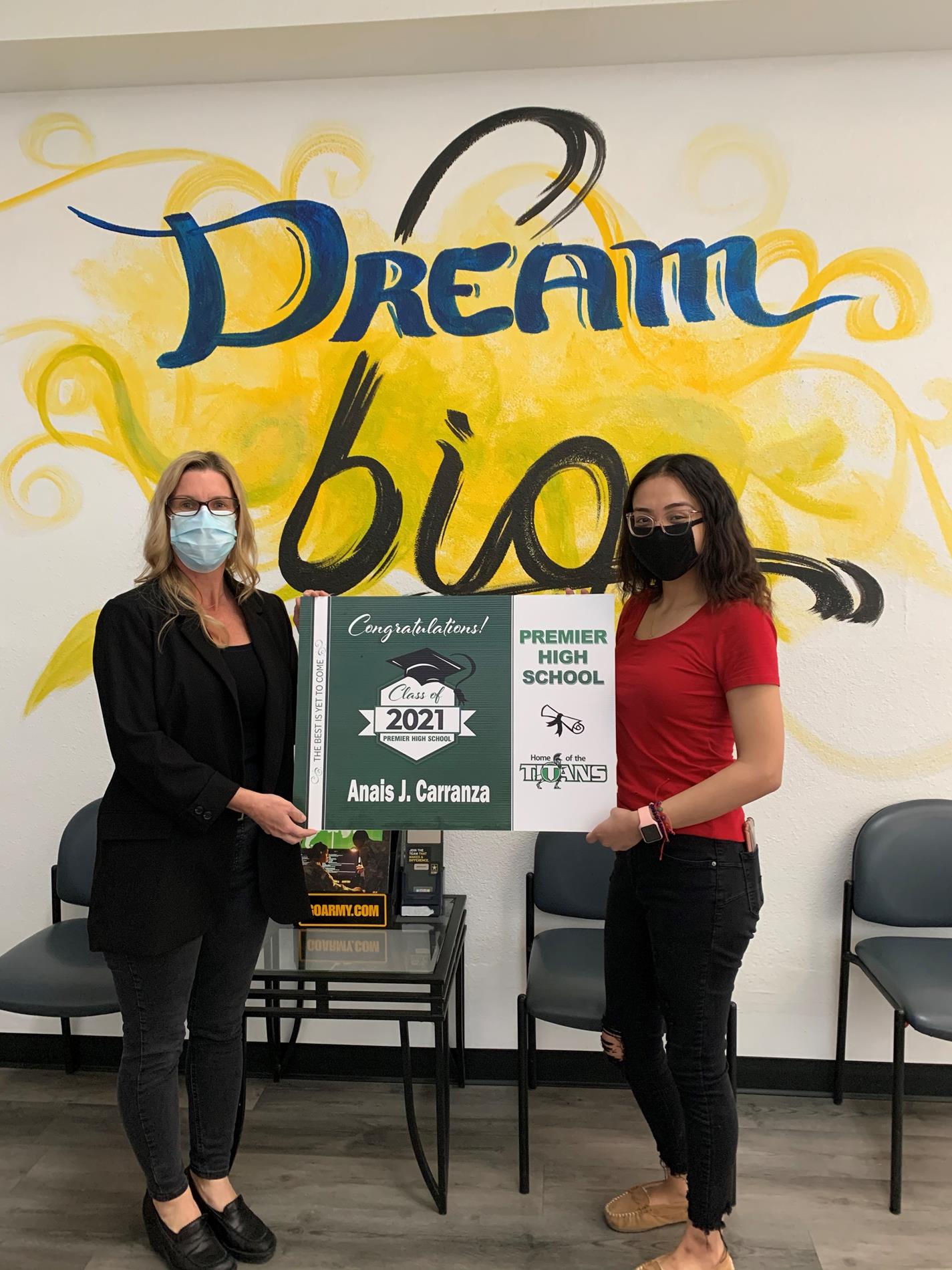 Congratulations
Anais & Victoria
Our first graduates for the 2020-2021 school year!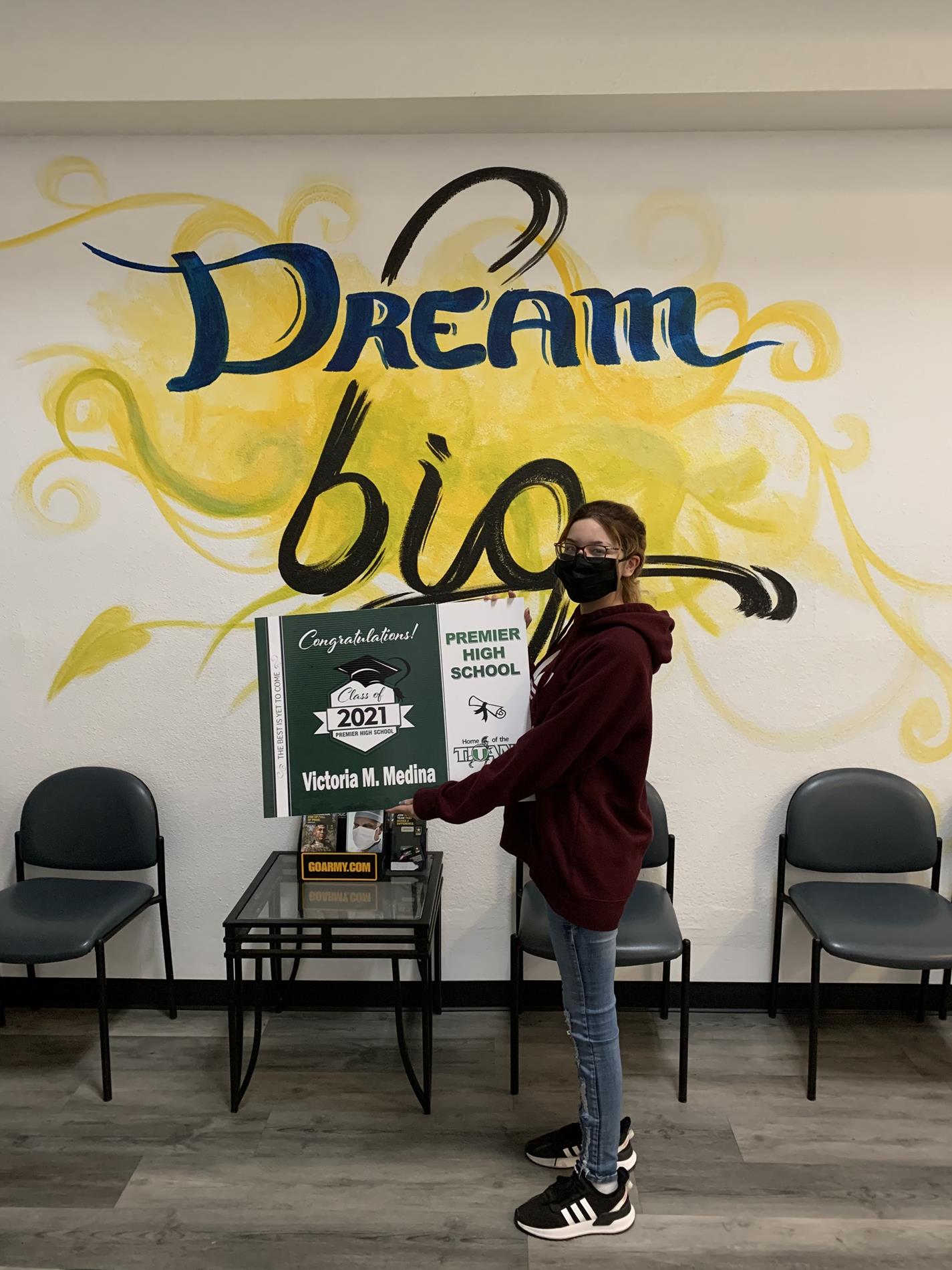 Back to School Important Information

Breakfast and Lunch Offerings
Premier is offering free breakfast and lunch to all kids 18 and under even during distance learning. There will be drive-thru pickup in front of the school on Monday-Thursday from 9:00am-3:00pm.
*there may be some food prep (i.e heating up of a entree) to have better quality items available
Important Resources

More coming soon!
Premier High School Receives "A" Rating

As of October 2019, the current A-F letter grades from the Arizona State Board of Education were made public. The formula that determines school labels uses a wide range of academic measures, including results from the AzMERIT test and academic growth.

To learn what your school's letter grade is and what those letter grades mean, go to the Arizona State Board of Education website.