April 21, 2021
Premier Students and Families,

We hope that all of you continue to remain healthy and safe.
Our 4th term of classes began on Monday, March 22nd after our spring break. Hybrid students are returned to in-person classes on campus. Hybrid students attend classes Monday-Thursday and meet with teachers in person as needed on Flex Fridays.
New required safety measures continue to be implemented on campus (masks, social distancing, seating arrangements, etc.) along with general school expectations (uniform shirts, attendance, lunch procedures, attendance, etc.).
Online students must continue to be actively logged in/completing a minimum of 4 hours of Edgenuity coursework each day Monday-Friday as a part of their required attendance/coursework.
State AZM2 testing in English and Math is already in progress for all 10th graders and state AZ Science testing for all 11th graders is complete.
Premier will be offering a summer session for students in grades 9-12. The session will take place from June 1st-June 30th. Classes will occur on Monday-Thursdays from 9:00am-1:30pm with free breakfast and lunch provided. If you are interested in having your student attend summer school, please call the school and let us know so that we can reserve a space for them.
We have lots of important learning taking place each day in school. Please help us to encourage your student to attend school (hybrid or online) and complete their learning tasks every day.
We sincerely appreciate your continued support and invite you to contact the school if you have any questions or concerns, 623-245-1500. Our hours are 7:30am-4:00pm Monday-Friday.
We sincerely appreciate your continued support and invite you to call the school if you have any questions or concerns, 623-245-1500. Our hours are 7:30am-4:00pm Monday-Friday.
Sincerely,
Premier's Administrative Team
Premier High School's Learning Models
Return to In-Person Learning Presentations in English & Spanish
21 de abril

Estudiantes y familias,
Esperamos que todos ustedes continúen sanos y seguros.
Nuestro cuarto trimestre de clases comenzó el lunes 22 de marzo después de nuestras vacaciones de primavera. Los estudiantes híbridos regresan a clases presenciales en el campus. Los estudiantes híbridos asisten a clases de lunes a jueves y se reúnen con los maestros en persona según sea necesario los viernes flexibles.
Se continúan implementando nuevas medidas de seguridad requeridas en el campus (máscaras, distanciamiento social, disposición de los asientos, etc.) junto con las expectativas generales de la escuela (camisas de uniforme, asistencia, procedimientos de almuerzo, asistencia, etc.).
Los estudiantes en línea deben continuar iniciando sesión activamente / completando un mínimo de 4 horas de trabajo de curso de Edgenuity todos los días de lunes a viernes como parte de su asistencia / trabajo de curso requerido.
Las pruebas estatales AZM2 en inglés y matemáticas ya están en progreso para todos los estudiantes del décimo grado y las pruebas estatales de ciencias AZ para todos los estudiantes del 11º grado están completas.
Premier ofrecerá una sesión de verano para estudiantes en los grados 9-12. La sesión tendrá lugar del 1 al 30 de junio. Las clases se llevarán a cabo de lunes a jueves de 9:00 a. m. A 1:30 p. m. Con desayuno y almuerzo gratuitos. Si está interesado en que su hijo asista a la escuela de verano, llame a la escuela y avísenos para que podamos reservar un espacio para ellos.
Tenemos mucho aprendizaje importante que se lleva a cabo todos los días en la escuela. Ayúdenos a animar a su estudiante a que asista a la escuela (híbrida o en línea) y complete sus tareas de aprendizaje todos los días.
Agradecemos sinceramente su continuo apoyo y lo invitamos a comunicarse con la escuela si tiene alguna pregunta o inquietud, al 623-245-1500. Nuestro horario es de 7:30 a. m. A 4:00 p. m. de lunes a viernes.
Sinceramente,
Administracion de Premier
Premier High School's Caminos Hacia El Exito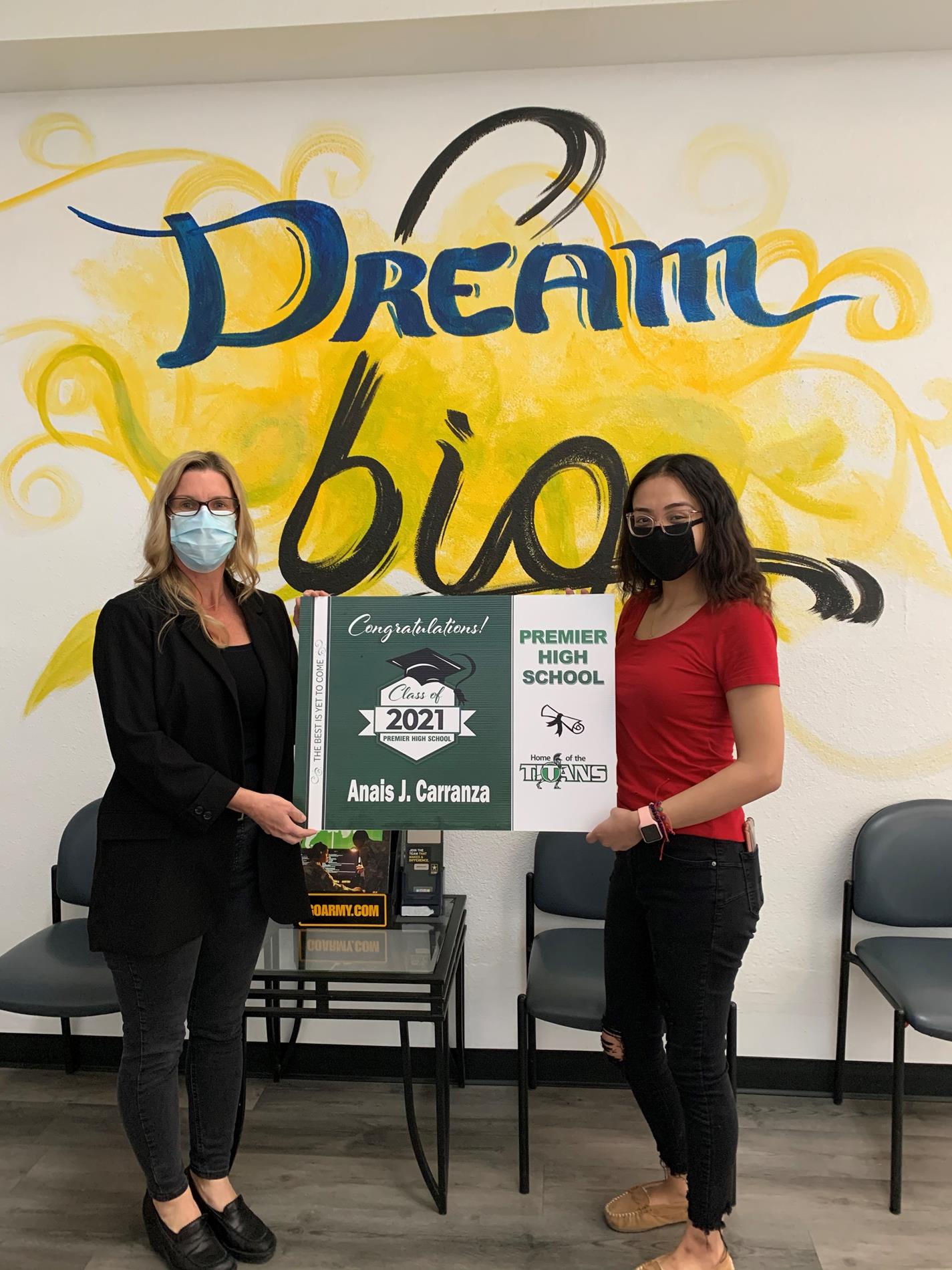 Congratulations
Anais & Victoria
Our first graduates for the 2020-2021 school year!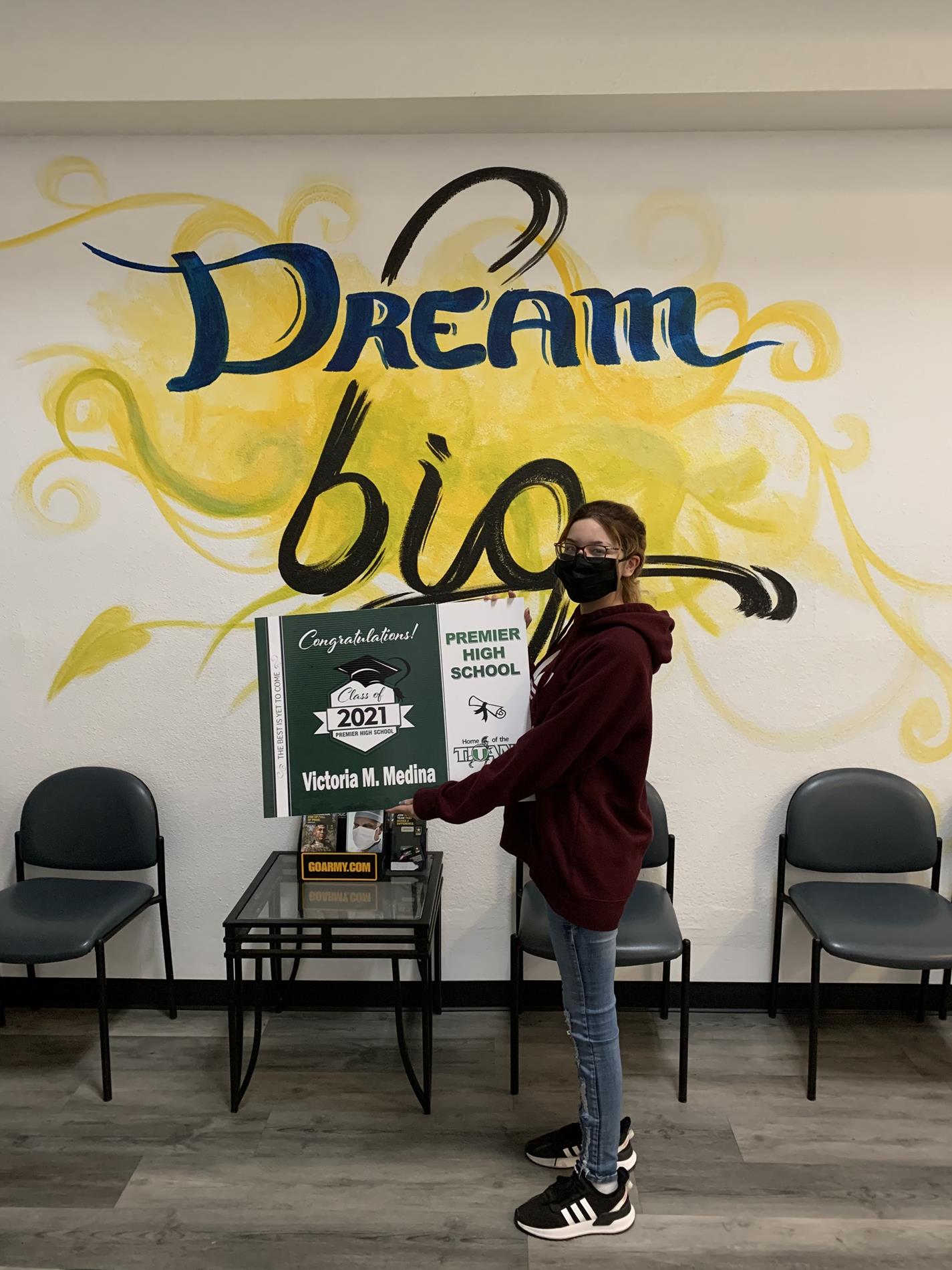 Back to School Important Information

Breakfast and Lunch Offerings
Premier is offering free breakfast and lunch to all kids 18 and under even during distance learning. There will be drive-thru pickup in front of the school on Monday-Thursday from 9:00am-3:00pm.
*there may be some food prep (i.e heating up of a entree) to have better quality items available
Important Resources

More coming soon!
Premier High School Receives "A" Rating

As of October 2019, the current A-F letter grades from the Arizona State Board of Education were made public. The formula that determines school labels uses a wide range of academic measures, including results from the AzMERIT test and academic growth.

To learn what your school's letter grade is and what those letter grades mean, go to the Arizona State Board of Education website.