Premier High School has five core values that are embedded in everything that we do. We want take pride in ensuring that our staff and students are able to contribute great things to our learning community and the world.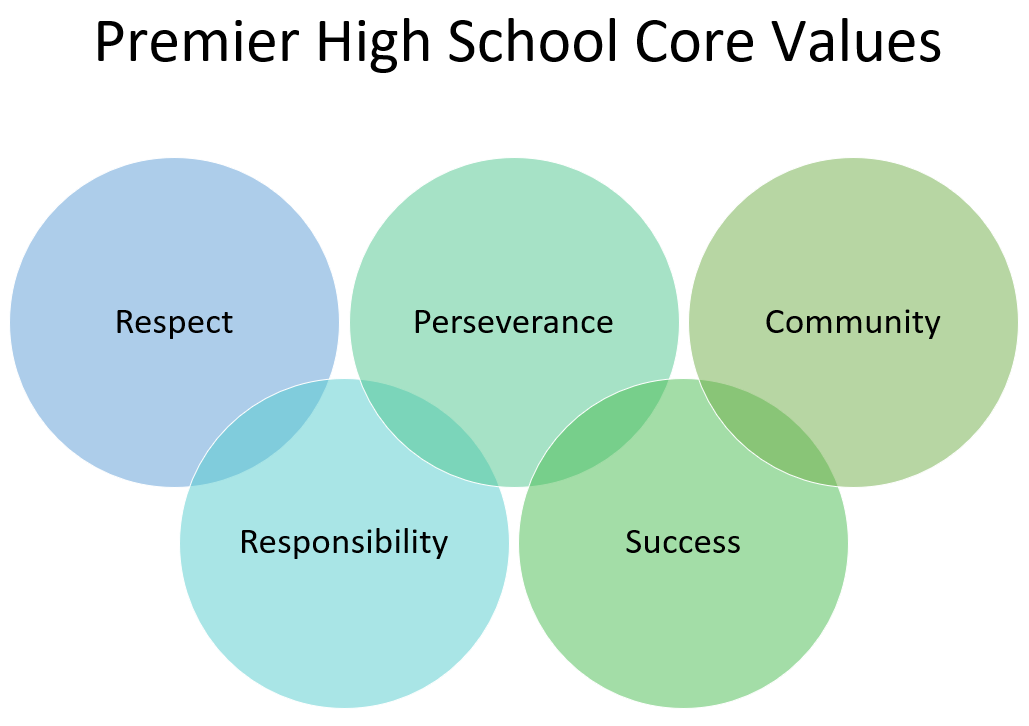 We have six school-wide non-negotiables that we expect everyday from our students. These align to our core values and ensure that students are ready to learn and accountable for their learning each day.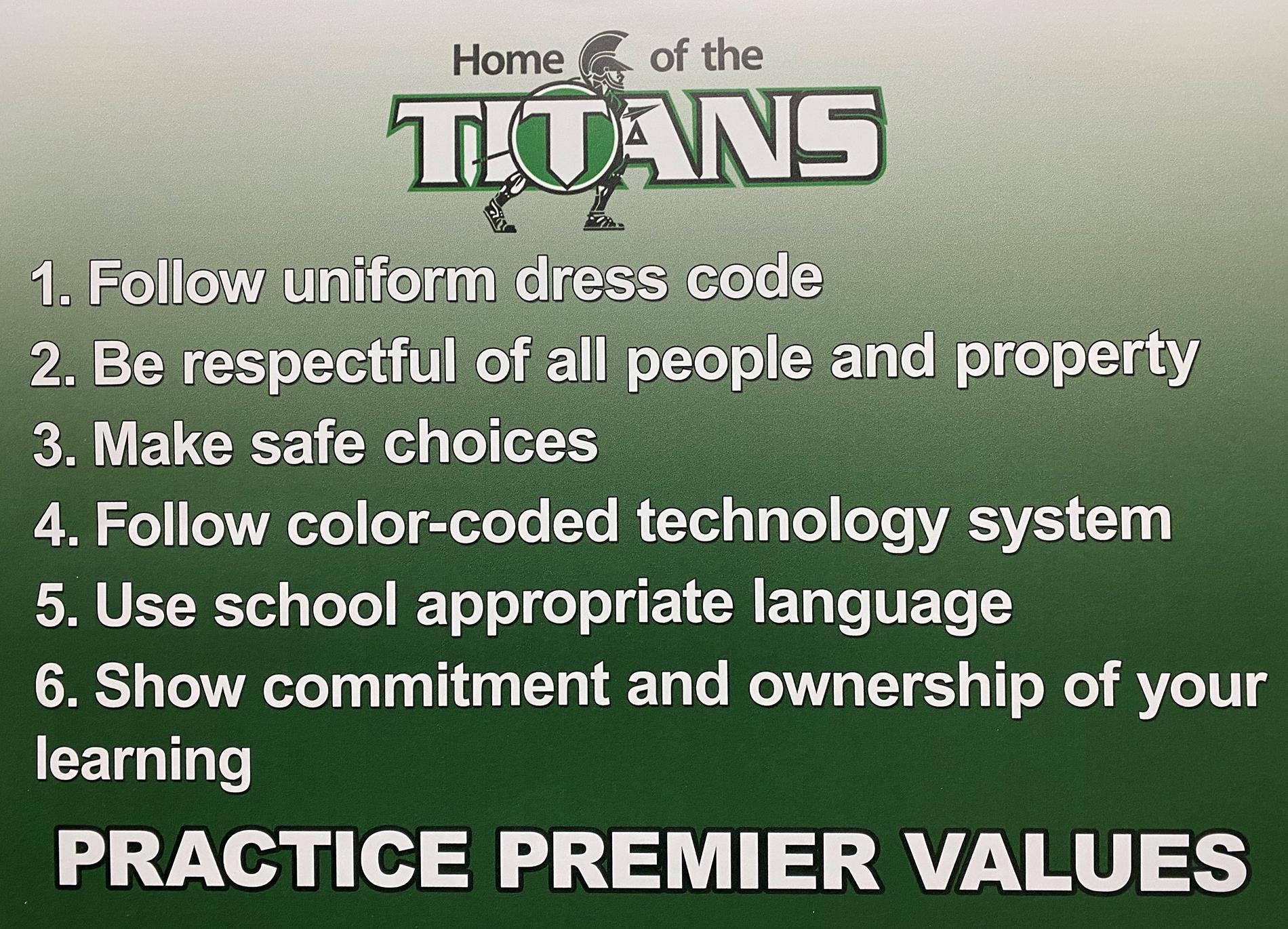 Current Student Information
Go Titans!
March 21, 2022
Premier Students and Families,

We hope that you continue to remain safe and healthy as our school year progresses. We continue to focus on serving our students with our credit recovery mission through our alternative scheduling and program supports. Please contact us via email using our directory or by calling our main school phone number, 623-245-1500.
All classes continue to be offered in person for the 2021-2022 academic year with COVID safety measures in place. Our fourth term of classes begins on March 21, 2022 and will continue through May 20, 2022.
As we continue with our in-person learning, please remember to keep a student home if they are sick. You can report the absence by call the school main number, 623-245-1500. Should your student need to quarantine or isolate at home, the school can approve for your student to have access to their coursework during that limited time.
We sincerely appreciate your continued support and always invite you to contact us with any questions or concerns.
Respectfully,
Premier's Administrative Team
Your Fast Track to Success is at Premier High School!
We are currently enrolling for the 2021-2022 school year for students grades 9-12. Premier is an A-rated school by the Arizona Department of Education. We take great pride in providing our students with a personalized program focused on credit recovery and preparation for life after graduation. Some key highlights of our program are as follows:
A-rated, tuition-free high school
Grades 9-12, ages 14-21
Earn at least 9 credits a year
Free student activities (sports and clubs)
Free bus cards
Free breakfast and lunch
Información actual del estudiante
Go Titans!
1 de febrero

Estudiantes y familias,
Esperamos que continúe manteniéndose seguro y saludable a medida que avanza nuestro año escolar. Continuamos enfocándonos en servir a nuestros estudiantes con nuestra misión de recuperación de crédito a través de nuestra programación alternativa y apoyos del programa. Póngase en contacto con nosotros por correo electrónico utilizando nuestro directorio o llamando a nuestro número de teléfono principal de la escuela, 623-245-1500.
Todas las clases continúan ofreciéndose en persona para el año académico 2021-2022 con las medidas de seguridad COVID en su lugar. Nuestro cuarto trimestre de clases de 9 semanas comenzo termina el 21 de marzo de 2022 y continuar hasta el 20 de mayo de 2022.
A medida que continuamos con nuestro aprendizaje en persona, recuerde mantener a un estudiante en casa si está enfermo. Puede reportar la ausencia llamando al número principal de la escuela, 623-245-1500. Si su estudiante necesita ponerse en cuarentena o aislarse en casa, la escuela puede aprobar que su estudiante tenga acceso a sus cursos durante ese tiempo limitado.
Agradecemos sinceramente su apoyo continuo y siempre lo invitamos a contactarnos con cualquier pregunta o inquietud.
Respetuosamente,
Equipo Administrativo de Premier
Sinceramente,
Administracion de Premier
¡Su vía rápida hacia el éxito está en Premier High School!
Actualmente nos estamos inscribiendo para el año escolar 2021-2022 para los estudiantes de los grados 9-12. Premier es una escuela con calificación A del Departamento de Educación de Arizona. Nos sentimos muy orgullosos de proporcionar a nuestros estudiantes un programa personalizado centrado en la recuperación de créditos y la preparación para la vida después de la graduación. Algunos aspectos destacados de nuestro programa son los siguientes:
Escuela secundaria sin matrícula con calificación A

Grados 9-12, edades 14-21

Gana al menos 9 créditos al año

Actividades gratuitas para estudiantes (deportes y clubes)

Tarjetas de autobús gratis

Desayuno y almuerzo gratis

The Federal Communications Commission has launched a temporary program to help families and households struggling to afford Internet service during the COVID-19 pandemic. The Emergency Broadband Benefit provides a discount of up to $50 per month toward broadband service for eligible households and up to $75 per month for households on qualifying Tribal lands.
Eligible households can also receive a one-time discount of up to $100 to purchase a laptop, desktop computer, or tablet from participating providers. Eligible households can enroll through a participating broadband provider or directly with the Universal Service Administrative Company (USAC) using an online or mail in application.
You can learn more about the benefit, including eligibility and enrollment information, by visiting http://www.fcc.gov/broadbandbenefit, or by calling 833-511-0311 .
La Comisión Federal de Comunicaciones ha dado inicio a un programa temporal que ofrece ayuda a los hogares con problemas para pagar sus servicios de Internet durante la pandemia de COVID-19. El Beneficio De Emergencia Para Internet (EBB) te proporciona máximo $50 de descuento al mes para tu servicio de Internet; máximo $75 de descuento al mes para hogares elegibles en Territorios Tribales y un descuento único de hasta $100 por una computadora portátil, computadora de escritorio o una tableta electrónica a través de un proveedor participante.
Los hogares elegibles pueden inscribirse directamente a través de alguno de los proveedores de Internet participantes o a través de la Universal Service Administrative Company (USAC, por sus siglas en inglés), en línea o por correo.
Para obtener más información sobre este programa, incluyendo tu elegibilidad y cómo inscribirte, llama al 833-511-0311 o visita www.fcc.gov/bandaanchaprestacion

Breakfast and Lunch Offerings
Premier is offering free breakfast and lunch to all enrolled students. Please contact the school at 623-245-1500 should you have any questions.

*monthly menus are available
Premier iofrece desayuno y almuerzo gratis a todos los estudiantes inscritos. Comuniquese con la escuela al 623-245-1500 si tiene alguna pregunta.
*los menus mensuales estan disponibles
Premier High School Receives "A" Rating in 2019

As of October 2019, the current A-F letter grades from the Arizona State Board of Education were made public. The formula that determines school labels uses a wide range of academic measures, including results from the AzMERIT test and academic growth.

To learn what your school's letter grade is and what those letter grades mean, go to the Arizona State Board of Education website.