COVID-19 VACCINATION CLINIC AUGUST 5TH
NOW ENROLLING FOR THE 2021-2022 SCHOOL YEAR


Current Student Information
Go Titans!
June 24, 2021
Premier Students and Families,

We hope that all of you continue you remain safe and healthy during summer break. Our summer hours are Monday-Thursday 8:00am-3:00pm. We will be closed July 2nd-July 9thfor building maintenance and reopen on July 12th at 8:00am.
As we prepare for the start of the next school year, we need all students to return their technology devices to the school. This includes laptops, Chromebooks, hotspots, and all charging cords.
We are planning for all classes to be offered in person for the 2021-2022 with COVID safety measures in place. Our first term of classes begins on August 9, 2021, at 8:00am. Our theme for the year is "The best way to predict your future is to create it!" We want our students to use what they learn today to build for an exciting and prosperous future.
Please join us for our Back-to-School BBQ event on Thursday, August 5th from 3:00-5:00pm. You will have an opportunity to visit with our staff, hear about our programs and goals for the year and enjoy some delicious food!
Premier is excited to announce that we will also be hosting a free COVID vaccine event during our Back-to-School Barbecue from 3:00-5:00pm on Thursday, August 5th. We have coordinated with a medical provider to offer free vaccine shots to students and their family members ages 12 and up. Just make sure to bring an official form of identification.
We appreciate the continued support of our community and invite you to contact the school with any questions or concerns at 623-245-1500.
Sincerely,
Premier's Administrative Team
Your Fast Track to Success is at Premier High School!
We are currently enrolling for the 2021-2022 school year for students grades 9-12. Premier is an A-rated school by the Arizona Department of Education. We take great pride in providing our students with a personalized program focused on credit recovery and preparation for life after graduation. Some key highlights of our program are as follows:
A-rated, tuition-free high school
Grades 9-12, ages 14-21
Earn at least 9 credits a year
Free student activities (sports and clubs)
Free bus cards
Free breakfast and lunch
Información actual del estudiante
Go Titans!
24 de juno

Estudiantes y familias,
Esperamos que todos ustedes continúen estando seguros y saludables durante las vacaciones de verano. Nuestro horario de verano es de lunes a jueves de 8:00 a.m. a 3:00 p.m. Estaremos cerrados del 2 al 9 de julio para el mantenimiento del edificio y reabriremos el 12de julio a las 8:00 am.
Mientras nos preparamos para el inicio del próximo año escolar, necesitamos que todos los estudiantes devuelvan sus dispositivos tecnológicos a la escuela. Esto incluye computadoras portátiles, Chromebooks, puntos de acceso y todos los cables de carga.
Estamos planeando que todas las clases se ofrezcan en persona para el 2021-2022 con medidas de seguridad COVID en su lugar. Nuestro primer trimestre de clases comienza el 9 de agosto de 2021, a las 8:00 am. Nuestro tema para el año es "¡La mejor manera de predecir tu futuro es crearlo!" Queremos que nuestros estudiantes usen lo que aprenden hoy para construir un futuro emocionante y próspero.
Por favor, únase a nosotros para nuestro evento de barbacoa de regreso a la escuela el jueves, 5 de agosto de 3:00-5:00 pm. ¡Usted tendrá la oportunidad de visitar con nuestro personal, escuchar acerca de nuestros programas y objetivos para el año y disfrutar de una deliciosa comida!
Premier se complace en anunciar que también organizaremos un evento gratuito de vacuna contra el COVID durante nuestra barbacoa de regreso a la escuela de 3:00 a 5:00 pm el jueves 5 de agosto. Nos hemos coordinado con un proveedor médico para ofrecer vacunas gratuitas a los estudiantes y sus familiares de 12 años en adelante. Sólo asegúrese de traer una forma oficial de identificación.
Agradecemos el apoyo continuo de nuestra comunidad y lo invitamos a comunicarse con la escuela con cualquier pregunta o inquietud al 623-245-1500.
Sinceramente,
Administracion de Premier
¡Su vía rápida hacia el éxito está en Premier High School!
Actualmente nos estamos inscribiendo para el año escolar 2021-2022 para los estudiantes de los grados 9-12. Premier es una escuela con calificación A del Departamento de Educación de Arizona. Nos sentimos muy orgullosos de proporcionar a nuestros estudiantes un programa personalizado centrado en la recuperación de créditos y la preparación para la vida después de la graduación. Algunos aspectos destacados de nuestro programa son los siguientes:
Escuela secundaria sin matrícula con calificación A

Grados 9-12, edades 14-21

Gana al menos 9 créditos al año

Actividades gratuitas para estudiantes (deportes y clubes)

Tarjetas de autobús gratis

Desayuno y almuerzo gratis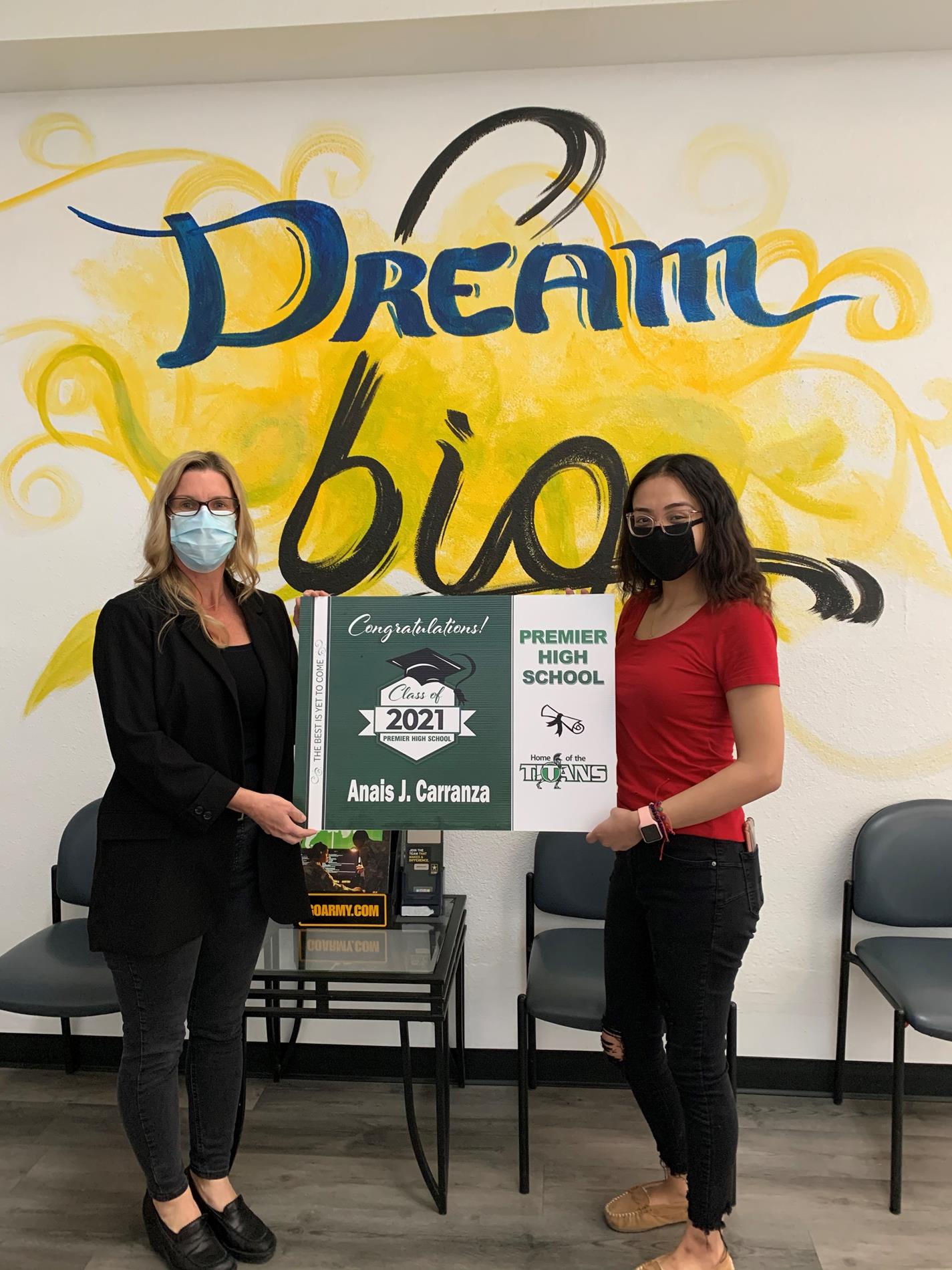 Congratulations
Anais & Victoria
Our first graduates for the 2020-2021 school year!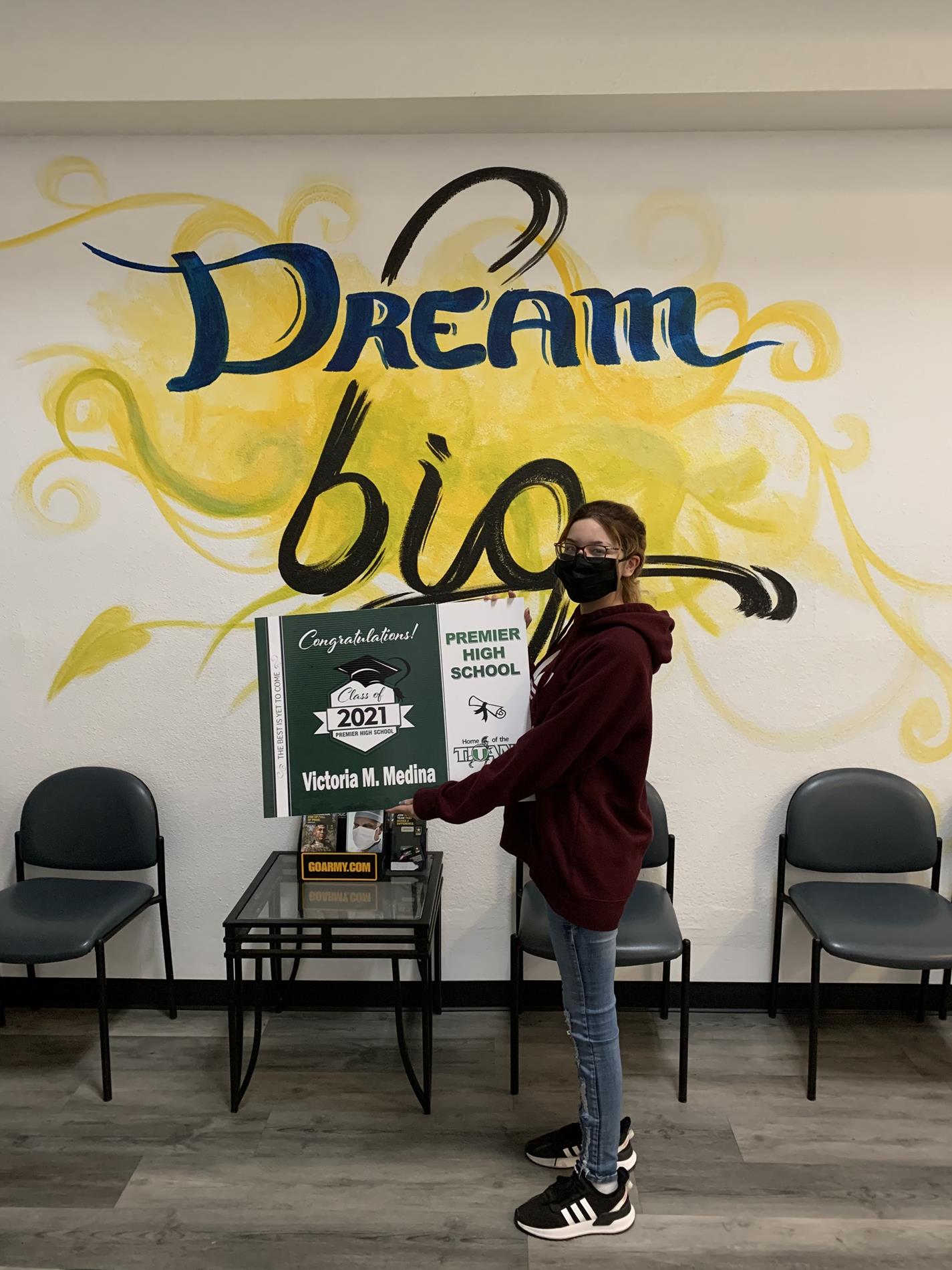 Breakfast and Lunch Offerings
Premier is offering free breakfast and lunch to all kids 18 and under. Drive thru pickup is available. Please contact the school at 623-245-1500.

*there may be some light food prep (i.e heating up of a entree) to have better quality items available
Premier High School Receives "A" Rating

As of October 2019, the current A-F letter grades from the Arizona State Board of Education were made public. The formula that determines school labels uses a wide range of academic measures, including results from the AzMERIT test and academic growth.

To learn what your school's letter grade is and what those letter grades mean, go to the Arizona State Board of Education website.