Social & Emotional Wellness - Student Tips
Student Tips-
1.) Be aware of your own needs.
2.) Think of what makes you feel calm and safe
3.) Find healthy ways to allow you to relax- for example:
Take slow, deep breaths, meditate, read, exercise and stretch, gaming and be social with
your peers using various distanced social platforms.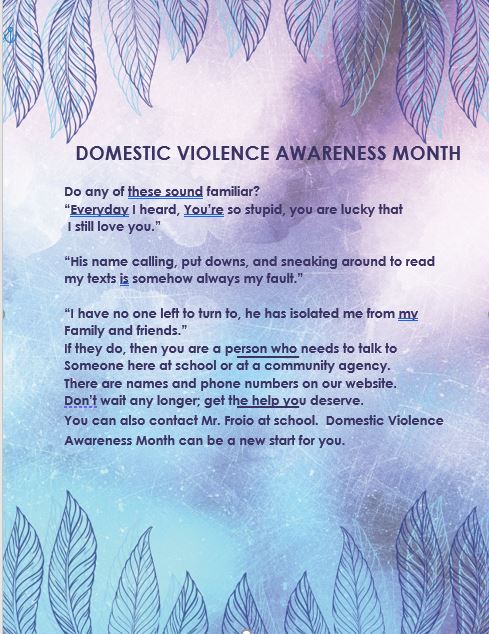 THOUGHT FOR THE WEEK
SELF-AWARENESS
SELF-AWARENESS enables students to recognize the impact of emotions and thoughts on behavior. Sometimes our emotions are a result of something that happened to us many years ago. We may act today based on feelings from traumatic events in the past. Sharing your feelings and emotions resulting from these events may help you better understand why you act the way you are acting today.
If you find yourself to be depressed, anxious, angry or sad; please talk with a family member or contact Mr. Froio at mfroio@premierhighschool.com. You can come and talk with me at school after complying with our Covid 19 precautions.
SELF-MANAGEMENT
Self-Management is a way to manage and be in charge of your emotions. Here are some tips on what you can do to recognize your emotions and then to manage them.
1.) Recognize physical symptoms, for - example heart rate increase, dry mouth throat tightening. Be aware of your potential symptoms.
2.) Use physical venting, for example - taking a walk, yoga, thoughtful relaxation, jogging, singing or whatever is your activity of choice.
3.) Withdraw from these situations until you are under control. If you feel angry or unsafe physically leave the situation.
4.) Change your thinking by considering alternative actions or responses that will provide you more helpful ways to think about the situation.
5.) Seek help if you are unable to regain control of your emotional self. Sometimes seeking help is the smartest and most courageous choice to make.
Crisis Services
Crisis Response Network - Available 24/7 602-247-4600
Terros Crisis Prevention - 602-685-6000
Empact Crisis Services - 480-784-1500 or 1-800-273-8255
Teen Lifeline - 602-248-8336
Mental Health Services
Jewish Family Services 1840 N. 95th Ave Suite 146 623-234-9811
Touchstone Health 12725 W. Indian School Rd 1-866-207-3882
Chicanos Por La Causa 6850 W. Indian School 623-247-0464